I've tried it several times in several different ways and my results were the same. I didnt experience any curl relaxation or better moisture retention. My hair did feel very clean though.
Recently I decided to splurge on conditioner and bough Tigi moisture maniac.I
it! Anyways, during my previous trials I used cheap conditioners such as vo5,white rain and herbal essences. for some reason i decided to try it with my new love to see if it would yield different results.
So i applied it in sections mixing as i went along so as to not waste my precious conditioner. i only needed a pea sized amount of conditioner for each section and about a half dollar sized amount of baking soda with a spritz of water. I applied it to soaking wet hair in medium-large sized sections. I raked it in and smoothed it very thoroughly. then i wrapped each section tautly into bantu knots. then i covered my head with a plastic bag and put a wool cap on to keep my body heat in because i don't have a hair dryer and i left it on over night.
the next morning i rinsed it out and my hair was unbelievable. zero tangles! i was actually able to braid my hair that morning in 10 minutes! something i would
never
attempt to do in the morning when im on the go. Im not sure how effective it was in losening my curl pattern but my hairs moisture retention is ridiculous!Most importantly in my problem area because it wouldnt absorb water or product not matter what i did
here is my hair wet with conditioner in it. yes its is wet. as you can see I had difficulty retaining moisture in my hair.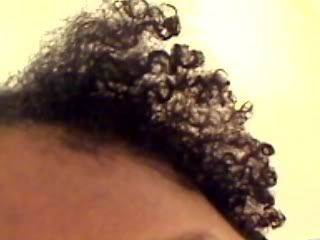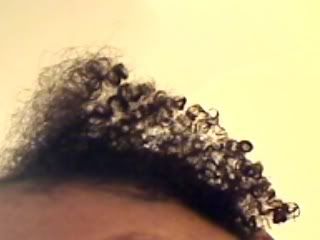 Here it is. i know the photos aren't that great and the section is a little bigger than the first pics but i think you can see a difference.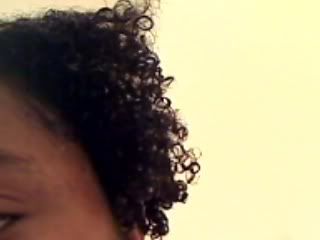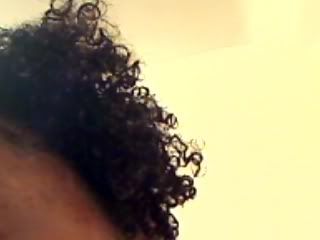 i am very pleased right now especially since i took the last pics a few days after doing the treatment. I'm also really excited that this may bring the possibility of just using conditioner in my hair to define my curls.(not all the time though, i still love my gel!) I always wanted to to that but my rough patch always messed it up.
I will keep testing this out to see if i get consistent results. If I do I plan to make a youtube video explaining the process. HTH!