Following the success of the
Supersonic
hairdryer and
AirWrap
curling tool, Dyson is launching its debut hair straightener, the
Corrale
.
Naturally, it features a world-first. It's engineered with patented flexing plates that shape to gather the hair allowing the straightener "to deliver enhanced styling with half the damage" (when tested against solid plates).
Practically-speaking, the plates work by holding the hair in place – so it can't splay or be snagged – meaning the user only has to make one pass per section to get a good result. Consequently, it reduces the reliance on heat.
While there are three heat options making it suitable for all hair types, top London hairstylist
Larry King
tells
Bazaar
to never assume that hotter equals more effective. "With the Corrale you don't have to go over the hair multiple times, which is when heat damage happens. You can use it at a lower temperature and you should get the results you would do at a higher temperature."
King also wants users to know that when you use a straightener at a high heat, you loose your style's density. "If you want to maintain volume while smoothing your hair, lower the temperature right down," he explains. That way you get the desired straightness but maintain the body. With the Corrale, you can just "let the plates do the work" he adds.
It's not just for straightening, though. "You can use it to do a S-wave, a flat wave, or even a curl," King says. "Your hair just holds within the plates so well making these styles easier".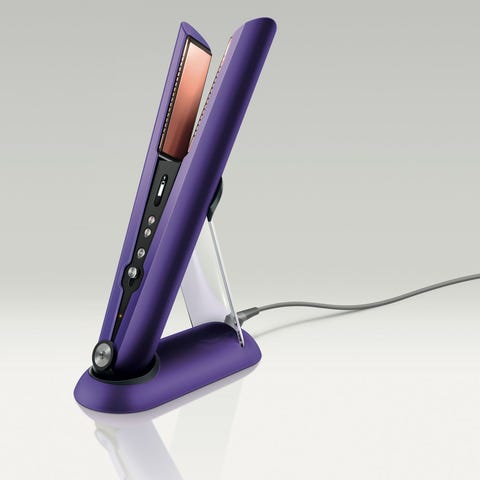 COURTESY
Another big lure is the fact the Corrale is cord-free. Fully-charged, it can style for up to 30 minutes, and recharges in 70 minutes in its charging dock. When it is plugged in, a magnetic 360° charging cable makes stationary styling easy too.
The cordless aspect does mean the tool is heavier than your average straightener, but the payback is the flexibility of styling wherever you want to (apparently people currently use extension cables to get theirs to the best mirrors with good lighting...).
For those one the move, it comes with a heat-resistant mat which doubles as a sleek travel wrap. And, portability-speaking, Dyson has also made it possible to disconnect the battery from the heaters allowing you to travel with it on airlines. A 'flight mode', if you will.
At £399 the Dyson Corrale Straightener isn't a steal, but if the demand for the tech company's existing hair tools is anything to go by, we predict a stampede nonetheless. Shop yours from today at
Dyson.co.uk
or the Dyson Demo Oxford Street store, London.