An "arrogant and selfish" father has been jailed for 16 years for organising a "monstrous" acid attack on his three-year-old son.
The trial was told the defendant was seeking greater access to his children and he wanted to create evidence of injuries to show his wife to be an unfit mother after she opposed the application.
The boy suffered burns to his face and arms in the attack at the Home Bargains store in Worcester in July last year.
Prosecutors said the man, 40, had enlisted others in a bid to "manufacture" evidence to discredit his estranged wife during a custody battle.
Five other men were jailed at Worcester Crown Court for their part in the plot.
The father, who cannot be named for legal reasons, and the five men were found guilty after a six-week trial of plotting to spray sulphuric acid on the boy with intent to harm.
A seventh defendant, Martina Badiova, 23, of Newcombe Road, Handsworth, Birmingham, was found not guilty of the same charge.
Following the sentencing, the boy's mother said she "couldn't sleep for weeks" after the attack and had "repeat nightmares about what happened that day".
"It has been extremely hard to accept that my three-year-old child has been attacked in such a way and that his father was behind this.
She added: "How will I explain this to my son?"
The court had heard the father, from Wolverhampton but originally from Afghanistan, was the "driving force" behind the attack in the Tallow Hill area on 21 July.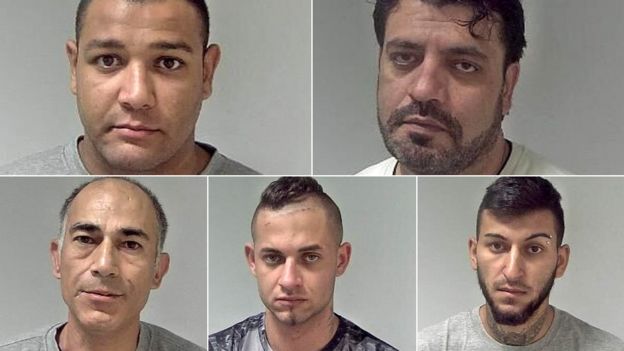 ______________
16 years just not enough the monster should have got life. He's not even British, they need to dump him back to where he comes from. You commit a crime you should leave....