I am happy to announce that….
I DID THE FINAL CHOP IN MY 16-MONTH TRANSITION IN SEPTEMBER!!
(Yes, I shared this already but I didn't have pictures then
erplexed ….just bought a digital camera
)
​
AND​
I COMPLETED MY 6-MONTH NO HEAT CHALLENGE IN OCTOBER!!
(Whew! Didn't think that was possible but I made it
and I'm loving my
no-heat regimen
Dont even have a desire to use heat now
)
​
Both of these are MAJOR MILESTONES in my HAIR JOURNEY! So I just want to say A BIG SINCERE THANK YOU to my LHCF sistas for your wisdom, guidance, and patience. It definitely would not have been possible with you all….so I am celebrating!! Onward to APL unstretched!!
Here are the pics:
From happy and healthy shoulder length relaxed: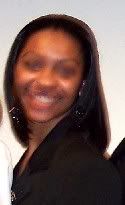 To nappily natural shoulder length when stretched kinda
I am very excited about my hair progress!!
I hope to be APL stretched by December 2007!!
Last edited: