Hi Ladies. I ordered 1 pack of 12"-14" 50% italian mink kinky straight color 1B from His and Her. The hair is butta soft!! I had the hair installed on Saturday. I don't think I will ever wear hair that doesn't begin with "kinky" again
I am in love. Since the length is somewhat close to mine my BF couldn't tell it wasn't mine until I told him
I co washed the hair with Suave Coconut and let it air dry. My hair is texlaxed with about 2-3" of relaxed ends. I split the wefts and sealed with clear nail polish. I used clear nail polish on my kinky curly hair and it hardly sheds despite cowashing it every other day.
I usually wear half wigs but I decided to sew the hair in this time because I was getting tired of "taking my hair off" at night.
I plan on washing my hair weekly with diluted Kirkland Signature Moisture Shampoo from Costco & conditioning with Suave Humectant or whatever I have on hand. I plan to oil my scalp with KeraCare Essential Oil in applicator bottle every other day. Its a really light moisturizing oil that smells yummy. When I flat iron the kinky hair I will add a little Chi to it. I am planning to do a black rinse on my leave out for better blending the next time I wash. For the install I used nylon upholstery thread instead of the beauty supply cotton thread. I read online it was supposed to cause less friction. The wefts are folded not cut. My braid pattern is straight back with the ends sewn in between each row. My entire perimeter is out and I did not use a net. I will leave it in for 5-6 weeks. By the way, I am 5'3"
I have about a foot and a half piece of weft left over.
Here is the link:
http://www.hisandher.com/50__Italian_Mink_Kinky_Straight-b-list.aspx
Fresh out of the pack: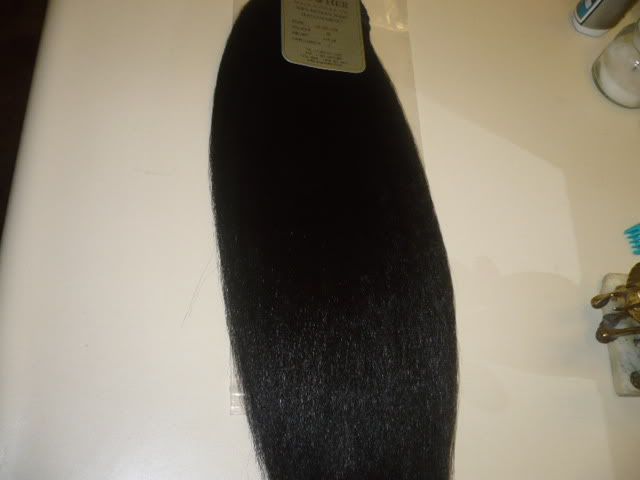 Flash from the camera made it shiny and my hand look white lol:
Trying to give you an idea of how thick the wefts are before I split them:
I ordered 12"-14"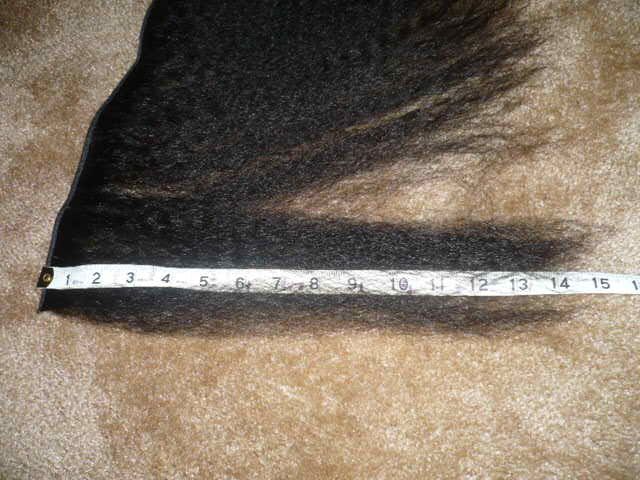 Co washed & air drying: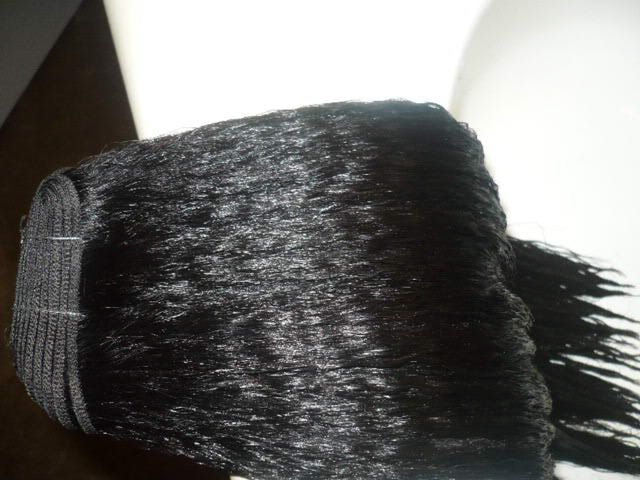 Had to pin it up to see what it would look like:
My hair blow dried:
Intalled by my friend:
This is after she flat ironed it. I was going for a more natural "kinky" look: