Hey ladies, I just thought I would share some pics of my beautiful new Flexi8 clip that my wonderful Mom-n-Law got me for my birthday!
She also got me a Hairzing, which hasn't come in the mail yet, but this flexi8 is just beautiful! I straightened my hair (using my maxiglide but no blow dryer this time) and used heat for the first time this year on this past Sunday and I am going to try to wear it straight all the way to next Monday. I used my birthday weekend, which starts this coming Friday, to use my pass for session 2 of bootcamp.
I did my big chop on my birthday in May 2002 and this year, Lord willing, I will be 31 years old and my natural hair will be 6 years old :birthday2. I will be updating my fotki with my straight hair pics soon and I will let you know when the pics are ready. I am so glad I got the extra large flexi-8, I feared it would be too big after seeing the video of the chick with the butt length hair...then I remembered, us thick haired folx need extra sturdy and extra big accessories to hold all this thickness we got going on! In the meantime, check out my Flexi8!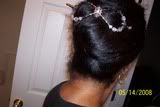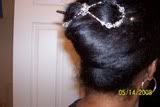 Mom-n-law told me to order whichever one I wanted and I chose the Princess tiara with clear stone-set and beadwork. I love it!