Life Recieved - Relaxer Update - Pics
I tried a new relaxer yesterday. I didn't mean to. I went to the beauty supply store to get me regular Gentle Treatment. This relaxer costs a good $4
. They marked it up to $7.49
.
So I decided to try Profectiv with the Cherry Red color. I was about 3 or 4 months post. Usually I use most of the relaxer jar. I looked a that tiny touch up amount and was like not going to work.
It did. One touch up amount covered all my ng. Anyway hair is bouncy soft and has a red tint. The set below was done on dry hair orange flexi rods, NO product.
The shine is bananas. I can run my fingers from root to tip and my hair is so tangly that never happens.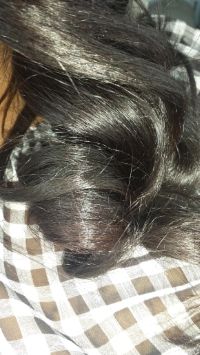 Last edited: