Hi Ladies,
I know there are some texlaxed ladies out their and I think that sometimes, after the air drying, blowdrying, rollersetting - It is really hard to really see if my hair looks like your's - So how about a gallery of Texlaxed wet hair and then it is easier to ask questions about what people do to their hair.
I will start it off.
I am a 90% air dry person, with a Giovanni direct sealed with caster oil, and maintained through the week with Aveda USC.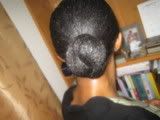 On special occasions - Rollerset with REDKEN SMOOTH DOWN DETANGLING CREAM with caster oil, and then use my Fhi, maintain during the week with Aveda USC.