Did y'all see these folks getting whipped by border patrol agents who were chasing them on horseback. ​
​
​
How thousands of Haitian migrants ended up at the Texas border​
Gang violence, bloody protests, food and fuel shortages plus natural disasters have spurred many to leave the west's poorest nation​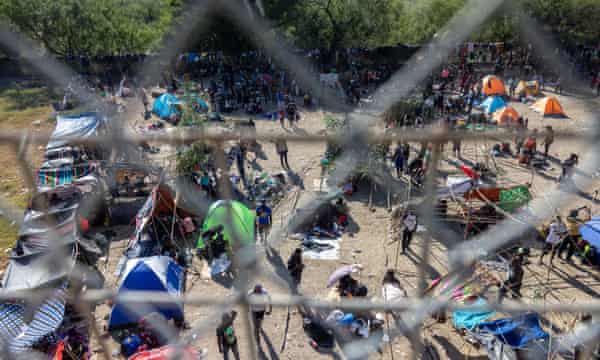 Show caption
Every night Guy would fall asleep to the sound of gunfire: warring gangs in the Haitian capital, Port-au-Prince, were fighting pitched battles in the city centre.
By day, the country was roiled by bloody protests against food and fuel shortages. Roadblocks with burning tyres were commonplace, and the police responded with tear gas and billy clubs.
"Going outside was scary," said Guy. "There was no choice but to get out of Haiti." He started making plans to reach the US – and he was far from alone.
Guns, gangs and foreign meddling: how life in Haiti went from bad to worse
Authorities in the
Texas
town of Del Rio, Texas, declared a local state of emergency on Friday after some 12,000 migrants – most from Haiti – gathered under and around a bridge on the border with Mexico.
The influx has overwhelmed local officials, presented Joe Biden with a new challenge – and cast a spotlight on the growing migration crisis triggered by the multiple and overlapping calamities which have beset Haiti.
For many migrants, crossing the Rio Grande is just the last small step in a circuitous odyssey that stretches across the Caribbean and deep into South America.
Most fly from Haiti to Ecuador, which does not require a visa for Haitian visitors, before either trying to find work in Brazil or Chile, or heading north, crossing the perilous jungles of the Darién Gap and onwards to Central America and Mexico.
At every stage, they are at the mercy of a security forces and organized crime groups which target travelers, and the rickety infrastructure of the people-smuggling business.
Guy was one of thousands of migrants, again mostly Haitians,
who recently became stranded
in Necoclí, a Colombian beach town where local ferries to Panama are unable to meet demand.
Like many others, he had been living in Brazil, where he worked at informal construction jobs. But, with jobs drying up and a perceived welcoming attitude from the Biden administration, he set out northwards.
"We follow those that went before us," Guy said, on a recent afternoon. "It doesn't matter if it's dangerous."